Arizona – Sonora Desert Museum: Cool Summer Nights – A MARVELous Evening
The Desert Museum is lovely during the day, but it's even cooler after dark!
Join us every Saturday night throughout the summer to beat the heat while learning something neat! The desert comes alive at night as nocturnal animals awake. Bats perform aerial acrobatics in pursuit of dinner, beavers splash around in their pond, and scorpions glow green under black light. Bring your flashlight and explore, grab a local beer and wander, experience a live animal encounter, scamper in Packrat Playhouse, feel the touch of a stingray, or participate in special nightly activities.
August 6 — A MARVELous Evening
Get your costumes ready for a MARVELous evening! Dress up as your favorite superhero and learn all about the super-powered adaptations that help desert animals and plants survive hot, dry conditions. You'll even get to pot-a-plant, GROOT style, to take home! Vote for your favorite Sonoran Desert super animal, browse a curated selection of goodies from Bookman's, experience a live animal show, enjoy space-themed activities from the Planetary Science Institute, and sip a refreshing cocktail as you watch a beautiful Sonoran sunset.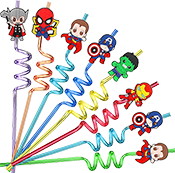 PRO TIP
The first 25 kids in line at 5:00 p.m. will receive their very own reusable superhero straw!
Specialty Cocktail

"Gamora Cocktail"

6:00 – 9:00 p.m. Vote for your favorite Infinity Stone

Visit the Cave to see the Infinity Stones and place your vote!

6:00 – 9:00 p.m. Vote for your favorite animal or plant superhero

Find animals and plants around grounds and place your vote!

6:00 – 8:00 p.m. Pot a Plant with Groot

Looking for a magical addition to your home? Pot a plant in your very own Groot planter! $20/person. Tickets coming soon!

6:00 – 9:00 p.m. Space Activities

With the Planetary Science Institute and Bookman's

6:00 – 9:00 p.m. Science Superheroes

Chat with science superheroes! 16 undergraduate students from Biosphere 2 will be informally presenting their research posters in the Baldwin Education Building.

6:00 & 8:00 p.m. Superhero Snakes

Enjoy this Live Animal Show in the Warden Oasis Theater

6:00 – 9:00 p.m. Face Painting

7:00 p.m. Kids Costume Contest

Kids, come dressed as your favorite Marvel character!
Prizes:
1st place – Spiderman walkie talkies
2nd place – Black Panther lego set
3rd place – Avengers puzzle

7:30 p.m. Adult Costume Contest

Adults, this is your chance to showcase your Marvel cosplay skills!
Prizes:
1st place – $50 Bookman's gift card
2nd place – $25 Fandango gift card
3rd place – Avengers mug

Throughout the Night

Look for Museum Docents around the grounds interpreting live animals, celestial desert skies, fluorescent minerals, bats, kissing bugs, scorpions, rattlesnakes, and more!

6:00 – 8:30 p.m. Stingray Touch Exhibit

Summertime isn't complete without a trip to the pool! Dip your hands in the water and experience the touch of a stingray. $3.00/person, $2.00/Museum members.

6:00 – 9:00 p.m. Packrat Playhouse

This indoor play space allows children to discover the desert through the eyes of a packrat! Packrat Playhouse may reach capacity. 30-minute reserved play times are available at the Packrat Playhouse entrance.

6:00 – 9:00 p.m. Art Exhibits

Make sure to check out our latest art exhibits in the Ironwood Gallery and Baldwin Education Building!
Audience:

Adult, Teen, Youth

Genre:

Field Sciences

Type:

Expo/Festival, Field Trip/Outdoor Activity